New find: Vintage wedge platform heel sandals / boudoir shoes
by Saks Fifth Avenue Young Elite
Red velvet and metallic gold
The platform shoe has been lurking around western style at least since the 19th century. Designers like Salvatore Ferragamo and Roger Vivier popularized it in the late 1930s with tapering wedge heels, expensive materials, and bold details. By the 1940s, platform heels were a huge trend and came in all colors with heels as high as 5 inches. In fact, many of them looked very similar to the platforms from the 1970s disco era. During the years of the first World War, the wedge became as important a statement as it was a functional tool. Women in wartime found it a comfortable yet fashionable accessory. The impetus behind this design, however, was a political one. Mussolini invaded Ethiopia in 1935, and, as a gesture of solidarity with Ethiopia, the League of Nations placed heavy sanctions on Italy. Italian designer Salvatore Ferragamo wasn't able to source the steel needed to manufacture the arches in previous designs. He designed the wedge shoe out of necessity - sort of an Emperor's New Clothes thing - but it worked.
A bit about Saks Fifth Avenue:
Horace Saks and Bernard Gimbel, both ran retail stores in New York during the early 1900s, Horace was the son of Andrew Saks who founded the upscale clothing company Saks & Company in 1902 and Bernard's family owned Gimbel Brothers, Inc. (another high end and very successful retail store who funded the Gimbels Thanksgiving Day Parade in Philadelphia). In 1923, Gimbel Brothers, Inc. and Saks & Company merged, Horace and Bernard became partners after Andrew Saks died the following year, and with the financial backing of the retail legacies, created Saks Fifth Avenue. The flagship store opened on September 15, 1924. Horace Saks died suddenly in 1924 after the store's opening, and Adam Gimbel became the new president, promptly redesigning the entire store in 1926, creating a series of specialty shops, including its Young Elites Shop, on the seventh floor. Actually in the 1920s and 30s it was called Seventh Heaven.
As Saks Fifth Avenue began to expand throughout the United States, the Young Elite Shops did too. They catered to the young, wealthy, and devastatingly fashionable. They were also magnets for society groups like the Spinsters Club and Twenty Little Working Girls in Miami, FL in the 1960s, showing their peers what to buy and how to wear it. A lot of these clubs operated as philanthropic organizations, but to me it just seems like bored rich kids who liked to have their photos taken.
In 1978, the NYC flagship Saks underwent renovations increasing office and selling space that were completed in 1990. The Young Elite Shop changed to Young Dimensions around 1970.
1940s Platforms
Images from Metropolitan Museum of Art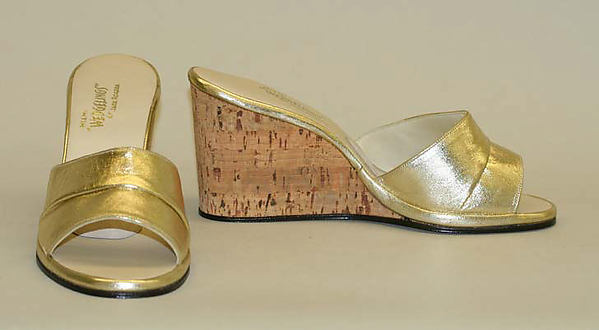 Jack Rogers, 1940s
Cox, Caroline.
Vintage Shoes: Collecting and Wearing Twentieth-century Designer Footwear
. New York, NY: Collins Design, 2008. Print.
"Saks Fifth Avenue."
Saks.com History
. Saks Fifth Avenue, n.d. Web. 05 May 2013.
Sabol, Blair. "People are Talking about: The Joy of Saks."
Vogue
Aug 01 1974: 122,122, 123, 150, 151.
ProQuest.
Web. 5 May 2013
.
"Shoes."
The Metropolitan Museum of Art
. N.p., n.d. Web.